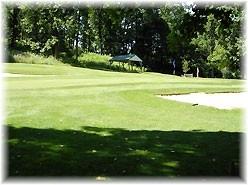 Fairview Golf Course, recently voted the #1 Golf Course in Lebanon County, was the third addition to the Distinct Golf Group in the fall of 1966. The course, which opened in the late 1950's, has matured into a great test of golf for players of all ages and skill levels. The course sits at the base of the south Gretna Mountains in the beautiful Lebanon Valley, 5 miles from the PA Turnpike – Exit 266 (Lebanon/Lancaster).
The course has seen many changes over the past 50 years making it one of the best golf courses in the area. A F-3 Tornado touched down on the course in July of 2004 damaging over 375 trees in it's path. With the help of hundreds of people, the course reopened 7 days later for play! With the help of the Jim Blaukovitch design team in 2005, new trees were planted, bunkers added, tees rebuilt and a tough water hazard placed on the 10th hole, the course has a restored sense of beauty and playability.
Fairview Golf Course also specializes in corporate, social and fund raising golf outings. Over the past few years we have hosted groups from the Hershey Bears, Pennsylvania Governors, Lebanon Valley College, and many community civic groups. No group is ever too large or too small!