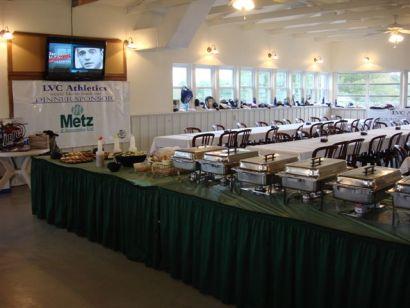 Whether you're sponsoring a large charity tournament or hosting an informal golf outing with friends, Fairview has the facilities and expertise to handle all the details and make your day a rousing success!
Fairview's Knickers Snack Shop and Bar offers sandwiches, burgers, and hot dog lunches that can be picked-up on the go for outings of any size. In addition, Fairview offers a full catered meal menu, provided by Quentin Tavern Catering, served at Fairview Banquet Hall for post-round meals. Our banquet hall accommodates up to 200 people, and is heated and air conditioned for all seasons. It's the perfect end to a day on the links!
Take a look at our 2022 Outing Pricing!
IT'S EASY TO BOOK YOU OUTING OR TOURNAMENT AT FAIRVIEW!
Contact the Pro Shop by phone at (717) 273-3411
On-line Outing Inquiry Form
Coming soon.